Rebound Therapy
What Is Rebound Therapy?
Rebound Therapy is the use of a trampoline to provide opportunities for enhanced movement patterns, therapeutic positioning and exercise. All programmes and assessments have been designed specifically for students with additional needs.
Rebound Therapy is used within Lonsdale to facilitate movement, promote balance, promote an increase or decrease in muscle tone, promote relaxation, promote sensory integration, improve fitness and exercise tolerance, and to improve communication skills. Students' progress is recorded using the Winstrada development programme where they can also work towards badges and certificates of development.
Some of the Benefits of Rebound Therapy Include the Development and Improvement of:
Strength of limbs
Numeracy
Patience
Communication
Co-ordination
Independence
Self-confidence
Balance
Muscle tone
Reaction speed
Self-image
Eye contact

Relaxation
Freedom of movement
Sense of achievement
Stamina
Spatial awareness
Body awareness
Social awareness
Consideration of others
Trust and confidence in Coach/Assistant
Colour recognition
Height and depth perception
Fun and enjoyment
Other Benefits Include:
Stimulation of digestive system
Improved bowel function.
Internal organ massage.
Clearing of toxins from the body.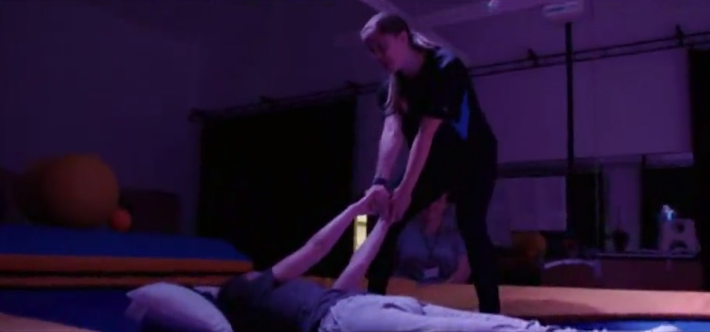 We have been fortunate that we have been able to utilise our sports premium funding to purchase the trampoline and send members of Lonsdale staff on training who can then deliver the programme across the school.
Our Trained Members of Staff:
Mrs M Woolley (Teacher) Ms T Durrans (LSA)
Miss L Hughes (Rebound Lead & Teacher) Mrs S Harley (DofE Lead)
Miss H Dean (Instructor) Miss V Rose (Teacher)
Miss K Gregor (Teacher) Mr T Nevin (LSA/Sports Apprentice)
Ms C Sumner (Teacher) Miss K Mills (LSA)
Mrs J Yule (Nursery Nurse) Mr D Paul (LSA)
Mrs L McCarthy (MH Assessor & LSA) Mr S Page (Teacher)
Miss A Reed (LSA) Mrs M Malavia (LSA)
Miss E Andrews (Sports Apprentice) Mr A Perrett (Teacher & Assistant Head)
Miss A Read (Teacher) Miss L Huddleston (HLTA & MH Assessor)
Mrs M Baker (Teacher) Miss H Ward (Teacher)
Mr M Tuck (LSA)